8 Free Things You Didn't Know Could Improve Your Personal Daily Income
8 Free Things You Didn't Know Could Improve Your Personal Daily Income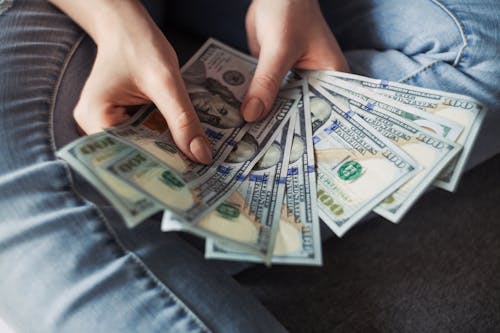 Do you really want to improve your personal daily income? If yes, congratulations because this article will reveal exactly the 8 free things you didn't know could improve your personal daily income.
Before i move on to disclose this highly kept secret, let me just ask you this question, DO YOU HAVE ANY SOURCE FOR PERSONAL DAILY INCOME?
If you answered yes to the above questions then congratulations because you don't have much to do other than to jump straight to the list of the things you need to do to improve your personal daily income.
If you answered no also you have my congrats because a good list of how to get started making money on daily basis is the next headline and you can start easily for free right away.
7 Best Ways to Make Money on Daily Basis Easily and for Free
Making money on daily basis is a dream for everyone especially those of us who are not actively engaged in a job. In fact the best ways you can ever make money and become rich is not to be on a job because it will take a lot of time, energy and frugal living for you to save up. So what do you do? You wan to start making money on daily basis without being actively involved, right? Let's go on...
Have you ever searched the keyword "how to make money online" on google? Of course you must have done that and it's not something you should be shy about. Most people do search that and funnily more than 20 times a day.
When you search how to make money online what do you get as your result?
You get something like this...
1. Affiliate Marketing

. 
This involves promoting other people's products and getting paid some commissions when someone buys from your link. This method of making money online is probably most popular. In fact, most people who make money on daily basis are into affiliate marketing. Some of the most trusted and highest paying affiliate platforms include
amazon associates program
,
SFI
,
mylead global
,
warriorplus
,
jumia affiliate
,
fiverr
and much more. 
2. Selling on Amazon, eBay, Etsy, and Cragslist.

 
Selling your own products is also one of the best ways to make money online. In fact, if you have a product and you are not currently selling online then you are leaving a lot of money on the table. Most people go to amazon, ebay, esty, craglist, etc to make daily sales, why don't you try that. As an active sfi member i recommend selling on
tripleclicks
because there are millions of affiliates promoting products listed on the platform.
3. Blogging

. 
Blogging is like being a publisher of magazine or newspaper. You make money on daily basis as far as there are people who read your blog and there are ads that you get paid for when people view, click or buy from your link included in your blog. 
4. Niche E-commerce.

 
Do you specialize in any niche? Let's say you are into creative art and you want to make money on daily basis, what do you do? All you need to do is to create an online store and list your products there and you get paid. One one of the best ways to set up a free online store is to
sign up for a free ecwid account
, you can upgrade for interesting features like selling downloadable products and selling directly on facebook and instagram.
5. Your Own YouTube Channel. 
YouTube presents a very good opportunity to make money on daily basis. It works best if you are into affiliate marketing since you will have to be prompting products with your videos. So go right over to youtube to checkout how to start earning money from youtube. Here's a good video i have found that is really helpful to get started.
6. Selling E-books. 
7. Develop Apps. 
Are you aware that app development makes a lot of money on daily basis if your app secures a good number of users?  I am currently not app developer but i think you can eexplore and dive into app development to make money on daily basis.
The list of how to make money online is endless and this list tries only to pinpoint the best ways possible. Do you currently make money online? Please kindly post a comment on how you do that. 
Having the ability to make money online is a cool thing and if you are actually making a reasonable amount online on dailies signifies that you are really smart and diligent. But it doesn't end there.
What fo you do with the money you make online? Comment below to share your story and advice.
In this list are the top 8 free things you probably didn't know could improve your personal daily income.
Here are The 8 Free Things You Didn't Know Could Improve Your Personal Daily Income
1. Making daily investments
Of course investments differs, some pays while some sucks money off you without returns. Please drop a comment about the type of investments make that pays or that sucks so as to guide me and other readers.
2. Help someone do what you really love and know how to do. 
Have you any skill you know you can do very well? You may not know this but there are many people who doesn't know how to do that and they are willing to pay you to do that for them. Where do you meet such people? Fiverr! You can learn how to make money on fiverr right now for free. There are so many other places to make money doing what you love but i so much love fiverr.
3.  Save and get interest.
Have you ever wondered where you can get up to 20% per annum? Check branch out they also offer quick loans in case you are in need of fast small loan. Opay also offers 15% per annum interest just for saving money. You can save and withdraw your money anytime, you can lock some funds away, and you can as well earn more up to 30% per annum by getting a visa card from them for as low as ₦600 which they will eventually give you back as bonus.
4. Do not buy expensive things you can get cheaper somewhere else.
If you do online shopping this is surely for you. You don't just hit the checkout button without checking a cheaper deal on the same product. Let's say you want to buy a wrist watch, you could check out discounts from amazon to save some money.
5. Learn more and become more valuable and get higher pays for your time.
Of course people will pay you more if you offer more values. Why not learn more and become better positioned to command more money for you time? What do you want to learn more about? Comment below. No matter what you want to learn, as far as you are good and people value you high, you will be paid high. Alison is one of the best places you can learn more for free.
6. Start teaching people online
If course one of the best ways to increase your personal daily income is to teach what you know for more money.
Outschool is a great place to start earning for teaching students from the comfort of your home, it's that easy and free to get started.
7. Shop online for people.
Do you love browsing online stores for nice products and discounts? Of course you could go on and tell people about what you find, get them to pay for the product and you get commission for just helping them to do the purchase. Join my J-force team and learn how you can laverage on j-force as  a good platform for more money making.
8. Don't forget to give to those in need
Have you ever wondered why those who are rich do have giving habit? Is it just because they have the money? The truth is that the power law that multiplies riches does favours those who give. Don't be stingy, give to those in need you know you are better off.
Conclusion
In this article i have listed the best 7 tips on how to make money online as well as the best 8 tips on how you can improve your personal daily income (PDI). 
Should in case you have questions or you want to share your opinion please do so by posting a comment here.
Did you benefit from this post? Please help others discover it by sharing it on your social media pages. 
Thanks for your time.